Post by drenrin2120 on Apr 1, 2014 10:26:58 GMT -5
Welcome to the World of Super Massive!
Visit our Dynmap!
Last Update: 1/13/2015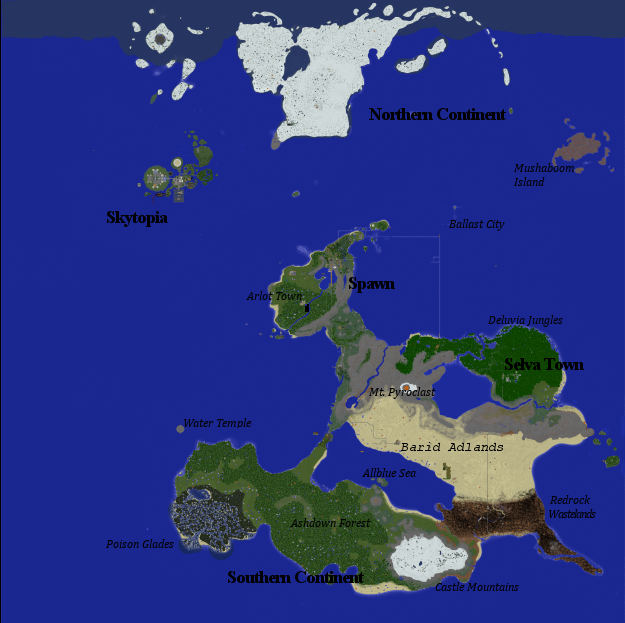 What You'll Need to Log On to the Server


Forge Version 10.13.0.1230 or higher (We recommend 1230)


The Super Massive Modpack (Download below)


The Server IP: 198.24.181.242:31963


Mod Credits:

If you want to support the server, the best way you can do so is by supporting the mod developers that allow us to package their mods and play them for free. They spend countless hours developing and maintaining these amazing mods, show them some love!
AQUACULTURE
by Shadowclaimer
BIBLIOCRAFT + ADDONS for NATURA
by Nuchaz
CRAFTGUIDE
by Uristqwerty
CUSTOM NPCs
by Noppes
Biomes O' Plenty
by Glitchfiend
TINKER'S CONSTRUCT
by mDiyo
METALLURGY 4
by Glassmaker
EXTRA TiC
by Glassmaker
TiC Tooltips
by Squeek502
TWILIGHT FOREST
by Benimatic
UNDERGROUND BIOMES
by Grom PE
WILDCAVES 3
by Alexmania
NATURA
by mDiyo
ORESPLUS
by TheTorbinWren
OBSIDIPLATES
by myrathi2
HARVESTCRAFT and GET ALL THE SEEDS!
by MatrexsVigil
LYCANITE'S MOBS
by Lycanite
CUSTOM CHEST LOOT
by docrobb
DUNGEON PACK
by Stuuupiiid
REI'S MINIMAP
by ReiFNSK
DAMAGE INDICATORS
by rich1051414
CARPENTER'S BLOCKS
by Mineshopper
Disclaimer: If you are ever redirected through an adfly link or asked to pay money, the poster is not a legitimate distributor of the Super Massive Modpack. All current versions of this modpack will always be available to download for free through this forum.

Neither I or the mod developers are responsible for any damages or corruption caused to your minecraft worlds. Modding minecraft always come with its risks. By downloading and installing this modpack you accept you are taking those risks. Remember to always back up your worlds!
Don't know how to install forge or this modpack? Click here.
STEP 1
FIRST OF ALL, the server is running on Minecraft Version
1.7.10
. So you will have to have an instance of 1.7.10 already in your .minecraft folder. If you don't, simply edit your profile or create a new one and run it as Minecraft 1.7.10. Doing this, Minecraft will automatically create a 1.7.10 folder for you.
STEP 2
Next you'll need to go
here
and download Forge version
10.13.0.1230 or higher
. REMEMBER: As stated above, only this version or higher will work with the server since this is the version of forge we are running. We recommend you download the installer and not the universal. Downloading the universal will only create more work for you and this walkthrough will not detail how to install forge using the universal download.
REMEMBER: FORGE VERSION
10.13.0.1230 or higherSTEP 3
After you've downloaded the
10.13.0.1230 or higher
version of the forge installer, you will have to open it with whatever version of java you're running. This can easily be done by right-clicking the installer and selecting "open with" >
java (TM) Platform SE binary
. If you're running minecraft... you're running java. So the option should be there. Follow the instructions to install forge.
STEP 4
If you have not done so already, download the Super Massive modpack. Copy/paste or move the zip folder into your .minecraft folder. If you don't know where this is, follow this path...
user/appdata/roaming/.minecraft
You may have to edit your user's folder to reveal hidden folders. You can also search for your .minecraft folder in the start menu. If you're using mac, sorry, you'll have to google the path.
Installing the modpack is as simple as unzipping the modpack archive inside your .minecraft folder. The /mods and /config folders within the archive will then merge with the appropriate folders. If you've installed any other mods before this modpack, we of course cannot guarantee that the modpack will function as expected.
STEP 5
Launch minecraft and create a new profile or edit a pre-existing one. Under versions of minecraft there should be a new option, 1.7.10 Forge, or something similar. Select this version of minecraft and run the profile.
Congratulations you've just successfully installed forge AND the Super Massive Modpack. You can now join the fun!